26 February 2022
"Speed" Running Indoor Event
Sprints & middle-distances
Do not miss the opportunity to diversify your running experience and run the sprints & middle distances.
General Information
Schedule
| | | |
| --- | --- | --- |
| | | Saturday, 26 February |
| 8:00 | | Start area opens |
| 9:00–9:55 | | Master-classes |
| 10:00–10:44 | | Starts 200 m. |
| 10:45–11:40 | | Starts 400 m. |
| 11:50 | | Finals 200 m. |
| 12:35 | | Awarding for 200 m and 400 m. |
| 12:45–15:00 | | Starts 1000 m. |
| 15:00–15:40 | | Master-classes |
| 15:40 | | Awarding for 1000 m. |
| 15:45–16:44 | | Starts relay 4x200 m. |
| 17:25 | | Relay's awarding |
Master Classes
Перед началом соревнований и перед стартом эстафеты тренеры Бегового сообщества проведут открытые мастер-классы для участников.

На первом мастер-классе тренеры покажут, как правильно разминаться перед забегом на короткую или среднюю дистанцию, научат стартовать с колодок, а также объяснят правила поведения на дорожке. На мастер-классе перед эстафетой участникам дополнительно расскажут о том, как правильно передавать эстафетную палочку и другие важные детали участия в командном забеге.

Предварительная запись на мастер-классы не требуется.
COVID-19 Safety Measures
To make the race day safe, we will take the following safety actions:
We will measure the body temperature of the personnel before the shift starts. People with temperature above 37 degrees or signs of respiratory infections will not be allowed to work.
We will brief all personnel on measures to prevent the spread of coronavirus infection.
We will require personnel to wear masks and gloves while working. We will ensure that personal protective equipment is replaced every 3 hours.
We will disinfect the surfaces every 2 hours.
We will place hand sanitizers within the start area.
All participants must follow safety procedures:
Participants

must

pass a body temperature measurement andwear face masks and gloves when visiting the changing tents and baggage storage pavilion.
Participants are

advised

to keep a distance of 1.5 m with other people, wear masks before the start and after the finish, disinfect their hands.
Participants

must

provide COVID-19 vaccine certificate (with two vaccination marks) or medical certificate on COVID-19 PCR testing results (the test must be taken not earlier than 48 hours before the event) or QR-code of a person who recovered from coronavirus upon picking up their starting package.
Registration
How to register
To register for the competition, you must complete the online application form and pay the registration fee on Running Community website. During registration enter your personal data according to ID card. Otherwise you will not be able to pick-up your participant packet and bib number. After you have registered, you will receive a confirmation email.
Online registration will close 23:59 21 February. Online registration may be closed earlier if the entry limit is reached.
Registration requirements
Participants must be 14 years or older on the race day.
All participants are required to pick up their own participant packet (bib number) on 26 February from 8:00.
All participants are required to show a government-issued photo ID and original medical certificate stating the participant has no contraindication to running in competition, and also

COVID-19 vaccine certificate or medical certificate on COVID-19 PCR testing results or QR-code of a person recovered from coronavirus

upon picking up their own participant packet.
Registration fees are nonrefundable.
Registration fee
Registration fee:
• individual — 900 rubles;
• relay — 1600 rubles.
Race Day
Getting there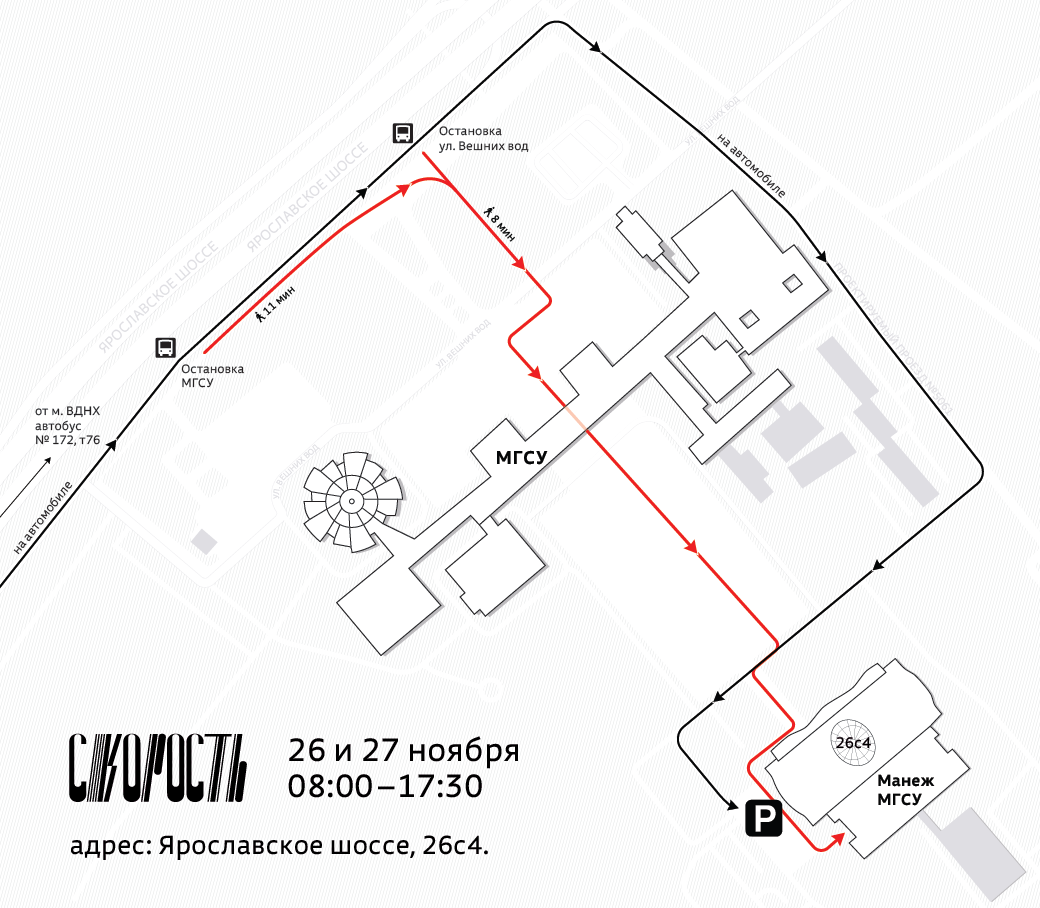 Facilities
For your convenience, male and female changing tents, baggage storage and toilets are available in the start area.
Start & finish
Men and women of different distances start at different times. See the schedule of starts.
Follow directions from race officials and volunteers at all times for a safe and orderly start to the race. Please mind your fellow runners. Please take care not to endanger others or yourself. In order to be able to hear your fellow runners of volunteers we ask you to run without music headphones. Doing so you also won't miss any cheers from the spectators.
Medical aid
Medical aid will be located at the start area. Please do not hesitate to contact any medical personnel if you are having difficulties – we appreciate you doing so. If you need medical aid, you may to ask any volunteer or fellow runners to an emergency call for you.
Results
Your result will be measured with professional timing system and judges at the finish.
Awarding
Participants who rank 1-3 in each distance and relay will be awarded.